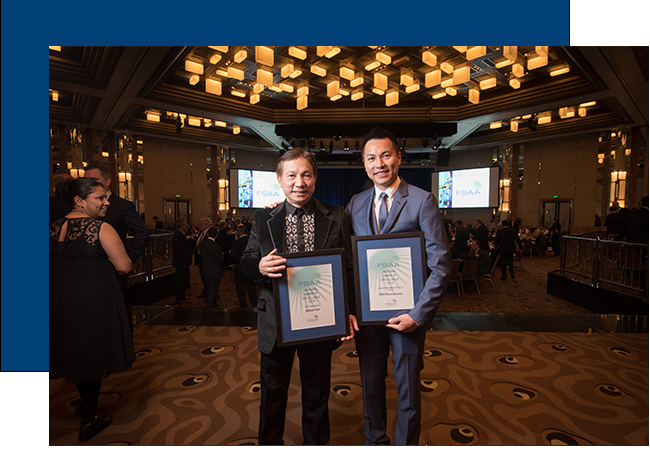 Feel the difference when you do business with EWH Food services. Renowned for our exceptional services, we have the most experienced team who can satisfy your foodservice needs, at the right time, in the right place, at optimum prices.
This is why we are one of the most awarded food distribution businesses in NSW. EWH has won the NSW Distributor of the Year award by FSAA (Foodservice Suppliers Association of Australia) many times (2012 – 2014, 2016 – 2017). William Yee, the owner and managing director, was inducted into the prestigious FSAA Hall of Fame in 2016, an alumni group that recognizes only those who have made a remarkable contribution to the Australian Foodservice industry.
EWH VALUES
THE EWH BUSINESS MAY HAVE EVOLVED THROUGH THE YEARS BUT WE STAY TRUE TO OUR VALUES

EWH, YOUR COMPLETE FOODSERVICE PROVIDER
WHETHER YOU RUN A SMALL VENUE OR A LARGE MULTI-SITE INSTITUTION, EWH HAS GOT YOU COVERED ON YOUR FOOD SERVICING NEEDS


We have been using EWH since 1991, over the 28 years, their service and support has been incredible. They always go above and beyond to get our orders delivered on time and fulfilled perfectly
Neil Perry
Culinary & Brands Director ROCKPOOL DINING GROUP

I have used EWH Food Services for most of my hospitality career, they have always gone over and above to accommodate exactly what we need. Their price and range are good but what makes them different is the over and above service levels. They source & supply products that's not in their range and willing to range it too. They are professional and always strive for excellence; the bonus is that the entire EWH team are friendly & a pleasure to do business with too!
Josh Niland
Chef and Owner at Saint Peter

Simmone Logue Fine Food has been purchasing goods from EWH Food services for the past 25 years. The service we have received over that time has been exemplary. We are always striving to create new and on trend products and EWH and their procurement team play a huge part in sourcing the ingredients we need to keep us ahead of the game. Their sales representatives offer fantastic service and have a can do attitude. Nothing is ever in the too hard basket. Commercially, EWH are very competitive and strive to deliver the best quality products for a great price. I do strongly recommend your company use EWH for all of your dry good needs.
Simmone Logue
Managing director at Simmone Logue Fine Foods

"Unilever Food solutions regards Epic Wright Heaton as a highly valued business partner. They strive to provide outstanding customer service, across all facets of their business, from their management through to their administration staff, tele-sales, field sales team, warehouse staff and delivery drivers. A family owned operation, their reputation for setting high standards matched with friendly reliable service is second to none. Unilever Food solutions and Epic Wright Heaton have continued to experience an outstanding partnership together over many years, built on trust and mutual respect. It is an absolute pleasure to deal with them."
Craig Brown
NSW State Sales Manager Unilever

I have been purchasing from EWH Food Services for some 17 years I have found the telephone sales girls, polite, helpful and reliable. Should a product be out of stock the will advise of the due date if at all possible. Regarding the company's Sales Representative, Mr Gary Highfield: I have found Gary to be extremely helpful and has always gone out of his way to source product and keeps me informed at all times Trent, our current delivery driver, is diligent and polite and makes every effort to place stock in the appropriate location, this is very helpful I would have no hesitation in recommending EWH Food Services to other organisations
Tony Lyons
Chef at Ku-ring-gai Meals on Wheels

"Attention to detail" and "Great follow up"
Freeman Lam
Catering Manager at St Andrews College

Goodman Fielder has been dealing with the team at EWH Food Services for over 25 years and has always had a very good and close working relationship. EWH have always been one of our major distributors and we're happy to partner with them to offer our products to NSW Food Service outlets together with their excellent service. EWH have an excellent reputation within the Industry from both suppliers and their customers, with 3 branches they offer excellent cover throughout NSW. William and the team at EWH are passionate about Food service with excellent attention to food safety standards and a dedication for service.
Gus Galan
NSW Account Manager at Goodman Fielder
SUSTAINABILITY
WE BELIEVE EVERY BIT COUNTS WHEN IT COMES TO THIS MATTER

EWH is proud to take a sustainability-based approach to the way we do business. Through investment in our people & technology, we would like to play an active role in minimising the impact of our business practices on the environment and the people within it.
From solar panel arrays and motion sensor lighting, to the use of smart GPS systems that allow our fleet to run at its' optimal level reducing carbon footprint where possible.  Boxes used by EWH are all made of recycled cardboard and produced locally in the country.  We are committed to exploring and employing the best business practices possible and try to keep the produce and materials local supporting the community around us.
Sustaining a safe work environment is also a priority within the company.  We conduct random drug and alcohol tests throughout the company in an effort to eliminate impaired behaviours that may affect our staff, customers or even the general public.  This is also followed by record kept police checks to ensure our customers are receiving optimal service from staff who have an excellent character that fits with the EWH family culture.
Food never goes to waste with EWH.  Any product that is no longer fit for sale due to minimum shelf life requirements are donated to institutions like Food Bank, and Exodus Foundation where these goods are re used for those who fight hunger daily.