EWH COVERAGE
EWH HAS AN EXTENSIVE DISTRIBUTION NETWORK

EWH has an extensive distribution network running our self-employed fleet of drivers.
From far North Tweed Heads all the way down to Batemans Bay, our 3 branches cover an astonishing 1125 km distance along the NSW coastline, and even distribute to inland areas like Glen Innes, Merriwa and Bathurst.
We review our service areas based on customers' needs regularly and will always try to improve on our delivery frequency where possible ensuring we meet and greet all our customers on a weekly basis.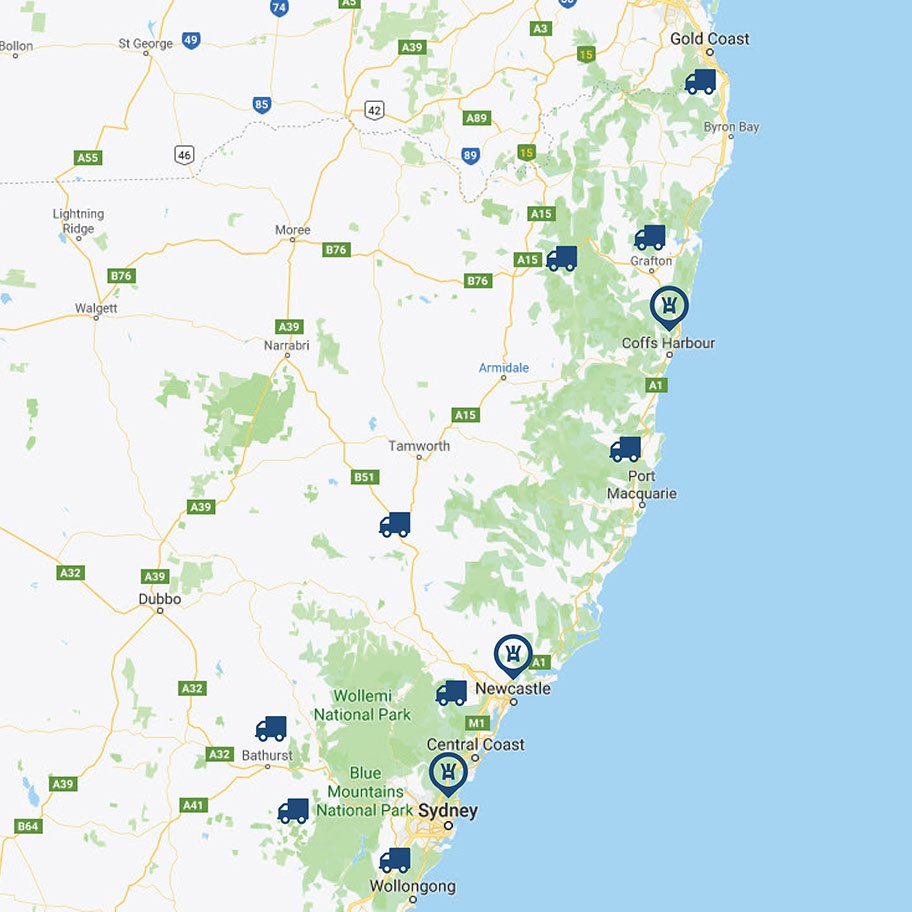 OPERATING HOURS

EWH general office hours are 9am to 5pm, Monday to Friday.  However, orders can be placed 7 days a week, 24 hours a day.   Facilities of phone, fax, email or even doing your own orders via our mobile app is now available to ease the way your order(s) can be placed.  Pick ups are also available for those near our branches.  Orders placed before 12pm can be picked up on the same day, anything placed after that time will be available on next business day between our office hours.
EWH will always try to deliver your orders at the earliest time convenient.  As we have all our trucks monitored, if you are chasing up an order, simply contact our friendly customer service team and they will be able to guide you to when your order will arrive.
EWH SOURCING

Although we currently carry over 6000 different items in our warehouses, there may always be something you require that is not currently ranged in our inventory.  To accommodate this, EWH has developed a buy in process using the partnership of our suppliers allowing us to source the required product at a time that meets the end user needs.  From these partnerships, EWH has also developed a large range of custom print food packaging products for many valued customers who like the 'one stop shop' approach. From dried, chilled and frozen foods, to many different environmentally friendly food packaging solutions, EWH will have the range that will cover your pantry.
EWH CUSTOMER

To become a EWH customer, you must fill in a credit application form where all pages must be signed and filled in where required.  When complete, kindly contact one of our sales representatives or office staff to organize the collection of the originals and upon receipt, we will have your account activated within the next 5 working days.  Please note, you must receive our introductory letter/email with your account details before your account is live and active.  If ever in doubt, please simply contact your nearest branch to receive an updated status of your application.